March – April – May (Spring)
 Season: Peak season
Tourists: Medium – high
Weather: Excellent
In March the temperatures are getting pleasant. Often ranging from 15-20°C (59-68°F). From mid-March to late March it's getting even warmer. However, keep in mind that especially in early March the nights are still cold. Definitely bring additional layer of clothes and a jacket. Later in the month nights are getting warmer and you usually don't extra clothing any more during nighttime. In April and May the average daytime temperatures are climbing and reach around 30°C (86°F). Are there a lot of tourist crowds? Besides autumn, spring is the most popular time to visit Wadi Rum. It's also the busiest time. However, since you are on a tour in a vast desert during the day, tourist crowds are not a big issue. Except for Wadi Rum Village, which is busier of course as well as hot spots visited during desert tours. Book your accommodation well in advance. Another great thing about spring are the desert flowers which bloom in March/April. It's not unlikely that you'll see gorgeous carpets of purple wildflowers during that time.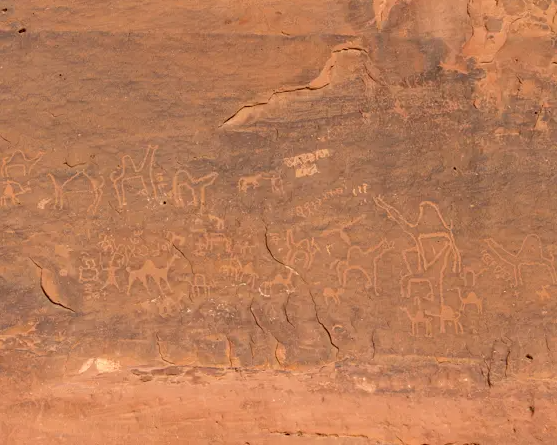 June – July – August (Summer)
Season: Low season
Tourists: Low
Weather: Hot – very hot
While in summer the average highs hover around 33°C (91°F) 'only', temperatures can in fact reach 40°C (104°F) and more sometimes. That means it boiling hot at times, especially in July and August. However, you can get lucky as there are days when it's not that hot, even in the summer. On the other hand you could experience heatwaves with extreme temperatures. Even in June there are already days when it gets very hot up to 40°C. For many visitors that's not the time for a pleasant visit. This is why this is low season in Wadi Rum, with the big advantage of having less crowds in Wadi Rum Village and quiet camps. So, is summer a good time to visit? It depends! First of all, the heat is easier to tolerate than in other regions. Mostly, because it's a dry heat. However, if you're not good with boiling temperatures, don't go in summer. We think it's a great time. Tours in summer take the heat into account: Lunch breaks are longer and in a shady place. If you travel with kids, we'd say choose spring or fall instead. For children it's more difficult to tolerate the heat.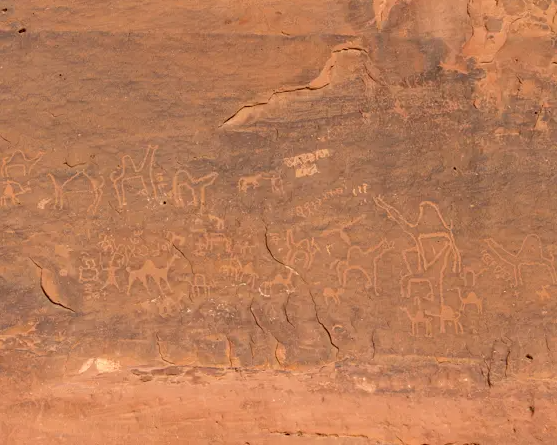 September – October – November (Autumn)
Season: Peak season
Tourists: Medium – high
Weather: Excellent
In September temperatures are still high up to 35°C (95°F). Especially until mid-September some visitors say it's still too hot for them. Towards the end of September it starts to get cooler. Weather wise from mid-September until end of October it's the most pleasant time to visit. Temperatures range from 20 to 30 °C. Although, evenings, mornings and in particular the nights in October are getting a lot cooler with temps ranging from 8 – 12°C (46 – 54°F) Also, there can be a little rain in October. Is autumn really that great? In general a fall visit is an excellent time with a lot of daylight (8 – 11 hours of sunshine), beautiful clear skies, less dusty wind and fascinating migrating birds. Another big advantage: You can experience sunrise without getting up in the night. Sunrise is between 6 and 6:30 in autumn. From mid-October through November it's also the perfect time for trekking/hiking tours. While you need warm clothes in the evening and morning already in October, it's even cooler in November (about 10°C / 50°F mornings/evenings) but still not as cold as in winter. In general autumn is a busier time tourist wise. That means places like Wadi Rum Village and some popular tour spots can't be enjoyed in solitude.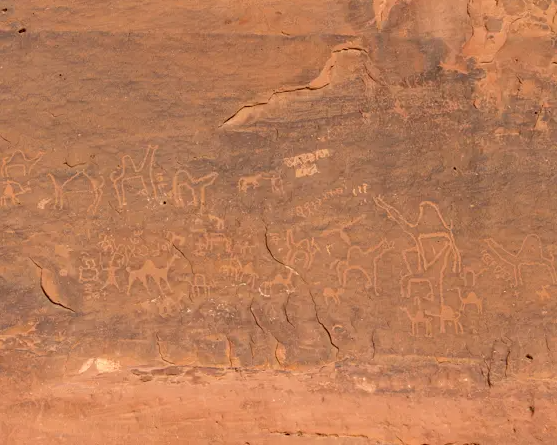 December – January – February (Winter)
Season: Low season
Tourists: Low
Weather: Cooler but not cold (except during nighttime)
Like summer, winter is low season in Wadi Rum. Which results in quieter hot spots and less busy popular sunset places, which you now can enjoy almost in solitude. Is it cold? Not during the day. It's just cooler with average temps between 10-15°C (50-59°F), which is excellent for tours, in particular hiking/trekking tours. But still, prepare for cold evenings and mornings as well as much colder nights. Alle three months, from December to February, are equally 'cold', with January being slightly cooler. Bring layers of clothes, gloves and a warm jacket (rainproof) for the evenings and nights. Warm blankets are provided by the camp. In the night temps can drop to zero degrees celsius. Can it rain in winter? Yes, Wadi Rum experiences about 15 days of rain every year and most of them in the winter. However, rain showers are usually not very long. Rainfall which is going on for days is very rare and it's very unlikely hat rain will spoil your visit during winter season. Despite popular opinions, we highly recommend a visit to Wadi Rum in the winter.